by maria
|
Last Updated:
July 23, 2020
The popularity of getting dental implants continues to grow around the world as an affordable way for individuals to replace broken or missing teeth. In the United Kingdom, around 130,000 dental implants are placed each year.
Dental implants blend in with your existing teeth making them look natural. Advancements in dental technology has improved the quality and design of implants over the last four decades. Now, implants are better than ever and a perfect option for anyone needing to replace missing or broken teeth.
Dental implants not only improve your confidence and self-worth, but offer a better quality of life to those who have them put in place. Individuals with fixed bridges and removable dentures experience a life in which visits to the dentist are common. Bridges can break and removable dentures create an unending task of taking them out, cleaning and replacing.
Patients can enjoy a number of benefits thanks to dental implants. The frustrations created by fixed bridges and removable dentures can leave you frustrated. Dental implants are fitted to the patient's mouth making them more comfortable to wear. A proper fit and strong implant mean individuals are not restricted on what they can and cannot eat.
After getting an implant, individuals rave about the confidence and self-worth they gain. A missing tooth can prevent you from smiling, speaking to people you don't know, or enjoying an evening out. A dental implant can take away that self-doubt and give you the life you have been missing.
What is a dental implant?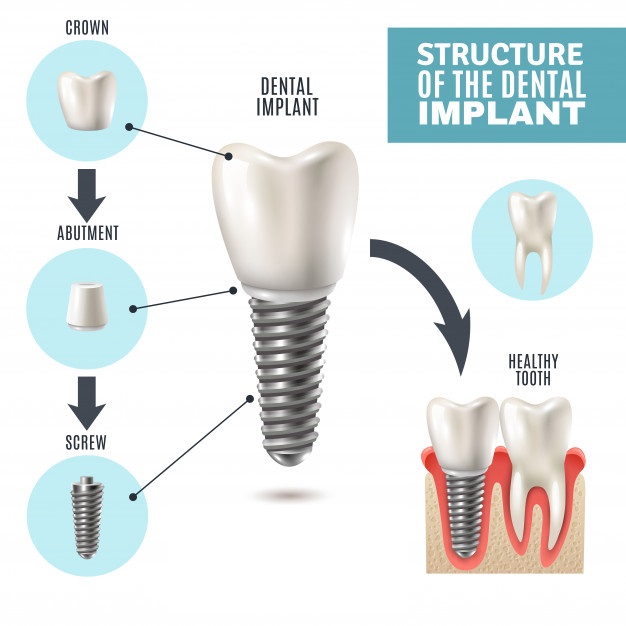 The implant is an artificial tooth root usually made from titanium. It is placed into the jaw and replaces a missing tooth. The implant is placed into the mouth surgically. The mount works as an anchor and the replacement tooth is then connected to it. The tooth remains fixed in place. The dental implant that is placed into the upper or lower jaw simply allows the artificial tooth to be secured into the mouth.
There are multiple ways a person can lose a tooth. Facial injury, tooth decay, infection, or gum disease can result in a person losing one or more teeth. This can leave them afraid to smile or live the life they want to live.
A dental implant can fix the issue created by losing a tooth whether it be from injury or decay. An implant is a long-term option to replace a permanent tooth.
3 Treatment phases for dental implants (important)
A dental implant is completed over the course of multiple appointments and can take a few months to complete. Patients will complete a consultation, an implant placement appointment, and an appointment to attach the replacement tooth.
1. Consultation: Prior to having the implant placed surgically, patients have a consultation. You will undergo an examination and dental options will be discussed by your dentist. After a plan has been discussed, your dentist will schedule an appointment for surgery.
2. Placing the implant: The dentist with use local anesthesia to numb your mouth. You will also be given IV sedation. This prevents you from feeling pain and discomfort. The dentist will make an incision in the gums for the tooth root implant to be placed. The incision will be in the area of the missing tooth. After placing the implant, the gums will be closed over the implant.
Patients are able to recover at home after the implant is placed. The procedure may take a few months to heal. It takes time for the jawbone to grow around the dental implant. The jawbone growing around the implant makes it strong and keeps it in place. The titanium combines with the jawbone in a process called osseointegration.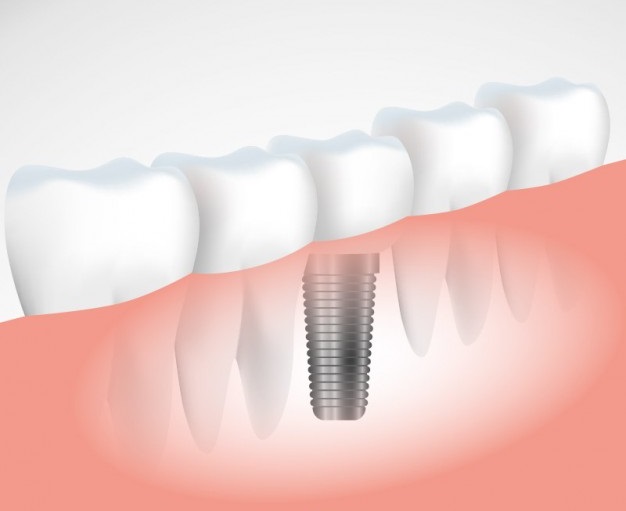 3. The new teeth: Once the implant is secure in the jawbone, an abutment is placed on top of the implant. The abutment is a connecting piece that holds the new tooth in place. Your dentist will make impressions of your teeth to create a custom tooth. The replacement tooth is called a crown and it is connected to the abutment to give you a beautiful new tooth.
You should remember that every patient is different. Getting a dental implant is a process and not a quick fix. It can take around six months before a replacement tooth can be placed into the mouth. Some patients are able to have the entire process completed in one appointment, but those cases do not apply to everyone.
Are dental implants painful?
It has been claimed by patients that having an implant is less painful than having a tooth pulled. This is partly due to the local anesthesia that is given to patients before the procedure begins. You may experience soreness in the mouth following the procedure. Over-the-counter pain medication can be used to treat the pain. You shouldn't drive home following the implant procedure and an alternative mode of transport should be organized.
How long do dental implants last?
All patients are different and the rate of success can vary following an implant. Success can depend on the area in which the implant was placed in the jaw. A dental implant has a 97% success rate. With the proper care, a dental implant can last a lifetime.
How much do dental implants cost?
The cost of dental implant treatments vary. Not all patients are alike and the cost changes due to circumstances. The number of implants and complexity of the procedure can all alter the cost of the treatment. The consultation appointment will allow you to speak with your dentist about the cost and payment options.
The cost of a dental implant isn't cheap, but remember, implants are long-term solutions to the problem of missing teeth. Due to being long-term (permanent) solutions, the benefits of implants can last longer than other options.
Insurance and dental implants
Insurance plans differ and it is possible for you to get coverage for a dental implant. Medical coverage may depend on the cause of your tooth loss. You may need to cover the co-pay or deductible of the dental procedure.
Implants vs dentures &  fixed bridges
Many individuals use removable dentures or fixed bridges to replace missing teeth. Dentures and fixed bridges are temporary solutions compared to implants. Although they allow you to eat, speak, and smile with confidence, they can break or become uncomfortable.
Dentures offer several problems other than being ill-fitting. They can slip when speaking or eating, and create unwanted clicking sounds. You may also experience bone loss in the jaw from wearing dentures. A fixed bridge can alter the teeth around it. Fixed bridges can also be damaged by further tooth decay and gum disease. Advancements in implants make them ideal for individuals with missing teeth.
Dental implant aftercare
A dental implant is like having your original tooth back. An implant needs the same care that a real tooth needs. Therefore, you must brush properly, floss, and visit a dentist regularly. Although an implant does not experience tooth decay, you can experience gum disease as with real teeth.
Still on the fence? Read this
Dental implants have an overall success rate of around 97%. There is nearly a half century of clinical research behind dental implants and the success patients have experienced over the long-term. Dental implants are often the best treatment option for patients seeking to replace missing teeth.
Dental implants may change your life forever. If you are missing multiple teeth, dental implants can produce confidence in you like never before. There are many benefits to having a dental implant and your quality of life can improve quickly after having the procedure completed.
No matter your age, dental implants may be the perfect solution to your missing teeth. Whether you need one, several, or all your teeth replaced, dental implants are the ideal way to give you back the life you once had.
To find out if you are suitable for dental implants, speak to your dentist to see if you are a candidate. It could be the best thing you ever do this year.