by maria
|
Last Updated:
July 20, 2020
A genuine smile has the potential to make the world a better place. If your misaligned teeth are stopping you from smiling freely, then it is time for you to start Invisalign treatment. Why sacrifice your confidence, when you can move your teeth to the right position and add value to your look. So, if you are ready to redefine your look and confused about classic 'braces or Invisalign' question, then continue reading to know about the pros and cons of Invisalign in comparison to traditional braces.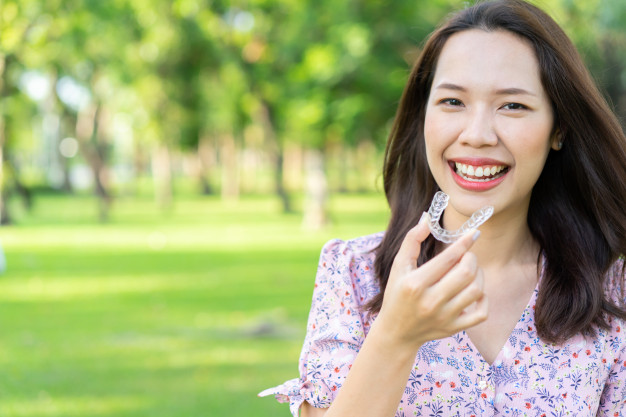 Frankly speaking, your crowded or spaced teeth aren't just about the look but oral issues that it could cause in the future. Misaligned teeth are challenging from a dental hygiene perspective, which could lead to quicker dental decay, bad breath, and chewing challenges. There must be a solid reason why over 8 million people are smiling freely after wearing Invisalign aligners. You can also redefine your look by wearing invisible braces and get rid of inevitable problems.    
Pros of Invisalign
Smile is a symbol of friendship and Invisalign invisible braces will boost your confidence to strengthen your friendship. Here are some of the advantages of the most popular misaligned teeth treatment braces.
Invisalign, made of high-quality transparent SmartTrack material, gives you the much-needed freedom from the worry of the unpleasant look of traditional metallic braces.

As compared to traditional wire brace, Invisalign is very easy to remove. So, you can maintain standard oral hygiene by brushing and flossing and avoid chances of cavities and periodontal disease.  

With Invisalign, you won't have to control your food habit. You have full freedom to eat anything you want, as removing aligners is pretty easy.

As compared to metal braces the plastic made Invisalign aligner is very comfortable. You won't have to worry about injuries, even if you are in sports.  

When it comes to treatment duration, Invisalign could help you cut time significantly. However, you have to follow instructions diligently to get quality results within 12 months.  
Cons of Invisalign
Nothing is perfect so there are some disadvantages attached to Invisalign. However, most of them aren't about the product but the usage, cost, and insurance coverage. Here are some cons you need to know about Invisalign.
The option of easy removal could extend the time of treatment for those who don't adhere to a 20-22 hour daily wearing routine.

In cases of severe misalignment, your dentist might not recommend Invisalign as you might need more fitting alternatives.

Despite increasing popularity, Invisalign treatment still isn't covered under dental insurance.

Depending on severity and duration Invisalign aligner treatment could cost in between £2800 to £6300. It is slightly higher as compared to metallic braces which cost in the range of £2,000 to £5,800.

For some, removing invisible aligners every time while eating might be problematic, especially when eating outside.
Conclusion
You will read highly encouraging reviews everywhere. But it depends on your dentist's investigation and advice. If your dentist recommends Invisalign then there is no better alternative to make your smile bold and beautiful. If cost is a concern, then no cost is too high to get the confidence to smile freely and live happily.