by maria
|
Last Updated:
July 30, 2020
Does your hand automatically move to cover your mouth whenever you smile or laugh freely? If it is so, Invisalign is here to give you the freedom to get rid of this unpleasant feeling. That's not all, these invisible aligners not only fixes your misaligned teeth but corrects overbite issues. The orthodontic system uses a series of transparent retainers to straighten your crooked teeth. Over 8 million happy Invisalign users are smiling freely to answer your concern regarding the effectiveness of Invisalign in straightening your smile.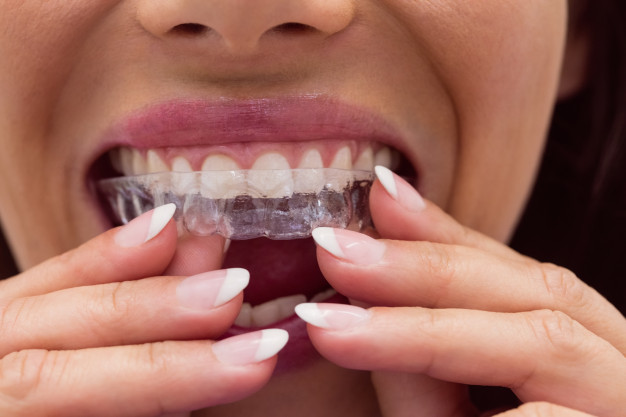 Unlike traditional brace used for moving teeth to the right position, Invisalign aligner gives you better results with the freedom to remove it while eating, brushing, or flossing. The transparent material enhances your look and you feel free to smile anytime anywhere. Depending on the level of dental crowding and spacing, you can expect teeth straightening results in less than a year. Since Invisalign treatment isn't covered under insurance and costs a little higher, you should know these facts before consulting your orthodontics. Ultimately, your dentist will decide the suitability of treatment depending on several factors, which are:
Wear Invisalign aligners for 20-22 hours
There is no doubt that Invisalign will straighten your smile by aligning your teeth. But, to get better results in the quickest possible time you have to wear it for at least 20-22 hours daily. Invisalign aligners give you the freedom to remove it while eating, but you have to be ready with a commitment to wearing it for a specified maximum time.
Invisalign is not for everyone
Invisalign aligners are made custom-fit to correct almost all orthodontic issues, be it misaligned teeth, overbite, and gaps. But, if your case is of a severe nature, then your orthodentist might opt for alternative treatment. The freedom of easy removal might not go well with naughty kids. So, it is better to consult your doctor and decide accordingly.
It Costs High But Worthy
Just like traditional braces, Invisalign also uses pressure and control to shift teeth gradually in the right position. Since braces treatments are of long duration, it normally costs high. Invisalign, although it costs a little higher as compared to traditional braces, is highly effective in terms of duration and ease. Depending on the treatment duration, the cost might escalate. So, ask your orthodentist about the expected treatment time and cost, which could be between £2800 to £6300. However, you have to be a little cautious in handling Invisalign as any breakage or loss could increase your treatment cost as unlike traditional braces, these aren't made in dental clinics.
Temporary Speech Impediment
The transparent aligners definitely give you a better look, but initially, you might feel slight speech impediment. The presence of extra material on teeth naturally disturbs your natural tongue movement, resulting in speech discomfort. Some people might experience above normal saliva flow. However, these issues are temporary, and you can get your speech comfort in just a week or two. So, hold your patience for a week to see the progress.
Change Grinding and Clenching Habit for Better Results
Tough, but if you grind or clench your teeth together excessively you might damage your Invisalign sooner. So, you have to control your grinding to avoid speedy wearing of the plastic material. This could increase your treatment cost and duration.
Cut Coffee and Tea Dose
If you are an avid coffee or tea lover, then you have to cut the dose of caffeine frequency. The plastic material could pick stain and spoil your transparent aligner. The temperature of these beverages could distort the shape of your aligner, making it useless in the long run. It is better to avoid hot beverages to get smile straightening results in the expected time.
Your dentist will determine the suitability and Invisalign treatment duration based on a detailed investigation. It might cost a little higher, but the results you get make it a worthy investment. All you need is a commitment to wear it for 20-22 hours daily and maintain dental hygiene to get a straight smile within a year.