by maria
|
Last Updated:
August 12, 2020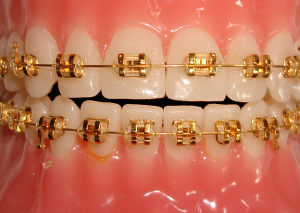 Why not use gold braces to make it a style statement. If money isn't a matter of concern, then you can ask your orthodontist about gold braces and see if you're the right candidate for gold braces.
Frankly, if you are worried about the effectiveness of gold braces then don't worry, it is the same as the standard silver retainer, except the glittering color of rose gold. If you want to make your teeth more sparkling and it suits your personality, then go for gold braces to bring your teeth to the right position and enjoy the attention.
Cost of Gold Braces in the UK
Your passion to have an extra shining smile will cost you extra. Depending on the current gold price, the gold braces price could fluctuate. Your gold braces will cost you much higher than the traditional braces, which normally cost around £4,000 to £5,500 depending on the material in use.
Smiling is the most valuable aspect of personality and you can make it more valuable by wearing gold braces. But, it all depends on what your orthodontist suggests based on the primary investigation. If aesthetics is a top priority then you can use the treatment time to make your smile more impactful by wearing braces made of gold.
What to Expect from Gold Braces?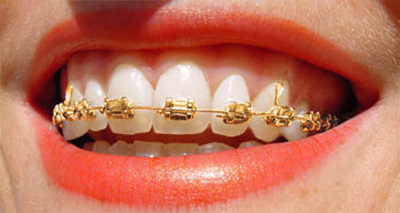 Your orthodontist will tell you everything about braces and benefits it will bring in the defined treatment time. If you are looking for something extraordinary, then ask your dentist about the possibility of gold retainers and how much gold braces will cost. Here are the 4 things you can expect from gold braces:
Gold Plating Over Steel
Braces treatment is all about using pressure to shift teeth in a specific direction. So, these are generally made of stainless steel to have the desired effect. The gold braces are made of steel, but wires and brackets are coated with a gold layer.
Choose Purity Smartly
The purity selection is in your hand. Depending on purity, which could be in the range of 10 to 24 Karats, the cost of gold braces will vary. It is better to ask your orthodontist about suitability and effectiveness as purity affects the tensile strength of gold. So, be smart in selecting purity because braces are temporary.
Nothing Special Beyond Color
If you are expecting something extra from gold braces then it is better to ask for an alternative. Except for the glittering color of gold everything else is the same as regular silver braces. Of course, you will have a shining smile, but you have to follow all maintenance and cleaning routines just like other braces.
Food Choice Control
Be it gold or silver, it will react differently to chemicals available in your regular foods. If you have aggressive munching habits then expect your gold plated braces to discolor early. If you are going for high purity gold braces then it is better to ask your orthodontist about food restriction to follow. In general, you have to avoid food with a high acidity level to avoid tarnishing.
Bottom Line
Your search for braces to straighten your crooked teeth shows how seriousness you are about your smile and appearance. Your goal might be aligning crooked teeth and fixing gaps, but braces give you many more benefits. Braces help you correct overbite and underbite issues, correct speech impairment, and in maintaining better oral hygiene to avoid tooth and gum diseases. If you are ready to correct your crooked teeth then why not do it in style with gold braces.
Your orthodontist will suggest braces treatment based on a detailed examination of your dental health.  Based on crowding and gaping complexity s/he will advise the best possible solution to straighten your misaligned teeth. Braces treatment is all about applying continuous pressure to move teeth in the desired direction. It takes time to move teeth in the right position to have a straight smile.