by maria
|
Last Updated:
October 11, 2020
Want to have better-looking teeth or simply improve oral health, but confused as to whether to consult a dentist or orthodontist? You are not alone as the majority of people think they are the same, but in reality, the difference lies in being a generalist and specialist. Dentistry is a broad medical specialty in which a dentist deals with your teeth, hum, jaws, and nerves. Whereas orthodontics is a specialty within the broader dentistry with a focus on teeth alignment for straightening, over/underbite correction, and occlusion. In simple terms all orthodontists are dentists, but all dentists are not orthodontists.
What is the Similarity?
From an oral care and dental health point of view, both dentists and orthodontists are the same as both serve to cure and keep your dental system healthy. They both are trained to treat teeth and gums related ailments. So, an orthodontist can offer all treatments a dentist can provide.
How Dentists and Orthodontists are Different?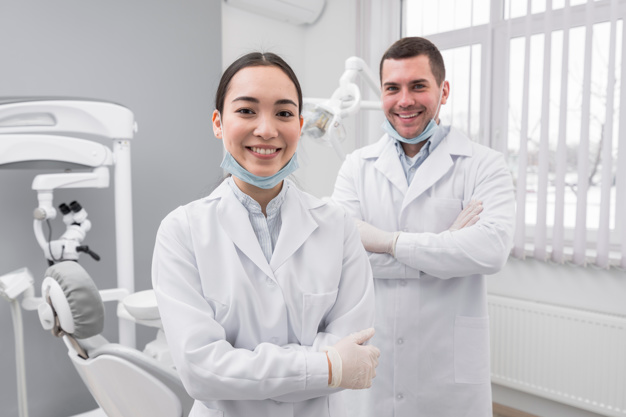 The main difference is the additional and specialized study and training to treat teeth alignment problems. It is more like a doctor who has obtained additional schooling to become a surgeon. They are trained professionals to straighten misaligned teeth, improve bites, and other structural complications using suitable corrective braces and other devices. Let's understand the difference between dentist and orthodontists in detail:
Qualifications & Memberships
Both dentists and orthodontists are Bachelor of Dental Surgery (5 years), but the orthodontist obtains an additional Master of Orthodontics (3 years) degree. From the perspective of membership, most of the practicing orthodontists in the UK must be a General Dental Council Registered Specialist in Orthodontics and members of professional orthodontic bodies, like the British Society of Orthodontists.
Treatments & Services
Your dentist will do a general checkup, filling & extraction, and of course cleaning & polishing of your teeth. An orthodontist advises on the overall oral health of teeth and gums. Orthodontics specializes in fitting corrective devices like braces to bring misaligned teeth in the right position. Some dentists might offer braces fitting, but they aren't trained and licensed to execute complex tasks.
Experience & Training
Normally, dentists examine oral health and refer patients to an orthodontist if one needs teeth alignment or bite correction treatment. Based on further check-up of dental complexity orthodontists recommend suitable braces treatment to move teeth in the right position. Orthodontists specialize in evaluating overall facial profile and suggest remedial treatment to enhance appearance. Trained orthodontists use the most advanced technologies and appliances to straighten teeth.
What Kind of Treatment Dentists Provide?
Dentists are trained to improve overall oral health and provide these treatments:
Treat tooth decay
Root canals treatment
Treat gums related disease
Bridges treatment
Veneers treatment
Fillings cavities
What Kind of Treatment Orthodontists Provide?
Orthodontists learn and master the art of correcting teeth misalignments. They provide service related to:
Misaligned teeth straightening
Treat teeth spacing issues
Correct overbite & under-bite issues
Correct temporomandibular disorders
Both dentists and orthodontists are trained to offer you suitable dental treatment. It is all about who is better trained to offer the best treatment. When it comes to overall oral health you should consult a dentist, but for alignment issues, you should consult orthodontists to bring teeth in the desired position and smile with confidence.