by maria
|
Last Updated:
January 5, 2021
All You Need to Know About All-On-Four Implants to Get Strong Teeth
Millions of people lose teeth due to one reason or other, affecting their facial and oral aesthetics, masticatory function, and speech abilities. Thanks to the progress made in dental science, you can get a new radiant smile by using the advanced all-on-four implant technique and get rid of embarrassing toothlessness, also called edentulism. There are several prosthetic options to rehabilitate teeth on severely atrophic jaws, but, unlike conventional implants in the all-on-four technique, four implants are placed surgically on the jawbone and then the teeth plate is locked on the implants. Unlike other restoration procedures, you won't have to worry about teeth removal or application of adhesives. You will have permanent teeth ready to chew all kinds of food in just a few days.  
What Is the All-on-four Implants Treatment Concept?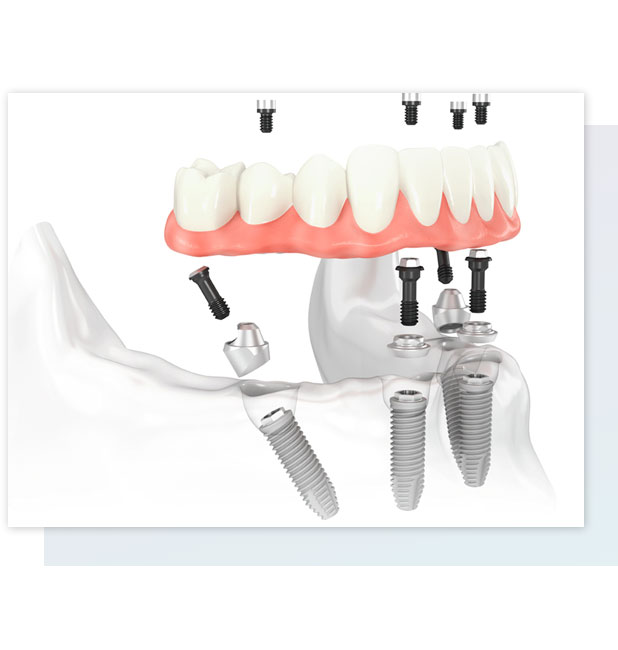 If you are looking for full-arch rehabilitation, the advanced all-on-four treatment is the best and cost-effective way to get strong teeth to lead a healthy life. In this graft-less procedure, four implants are placed—two straight anterior implants and two slanted posterior implants. It is a natural-looking permanent and the best alternative to dentures. Technically under the all-on-four treatment, an edentulous mandibular or maxillary arch is rehabilitated with grafting.  
On the day of surgery, the doctor will insert each dental implant with a tiny screw on the upper or lower gums. Once done, the dentist will place a custom-designed tooth to the screw. Four titanium posts are inserted into the jawbone to act as an anchor. Your dentist will attach permanent dentures at all our areas for a synchronous look across the mouth. The prosthesis will be there in your mouth permanently.
In simple words, under the all-on-four implant procedure instead of using the implant for every missing tooth four implants are used as the main anchor to attach the denture to the right place.
Advantages of All-on-Four Implants
Even a single missing tooth could be a big matter of concern not just for your look but for the health of your other teeth. Besides aesthetics improvisation, all-on-four implant surgery offers several other benefits:
You can rehabilitate missing teeth in just one day with just one surgery.

It is permanent and far sturdier as compared to dentures as it won't loosen or shift.

With just four implants you will have the entire set of teeth.

As compared to a separate implant for each tooth, the all-on-four implants cost less.

In an all-on-four procedure, your bone won't be grafted.

It is a great option for people of all ages who have lost a full set of teeth.

It helps in preventing future bone loss.

Well, aligned teeth give you a youthful face and freedom to eat everything you wish.

Depending on your oral health regiment, all-on-four implants could last for over 20 years.
Final Words 
The all-on-four implant treatment is effective and efficient. Unlike the traditional treatment, which could take three to eight months to recover, the all-on-four implant teeth rehabilitation takes far less time. It fuses with the jawbone effortlessly, so you will have better firmness. The effectiveness of the treatment depends on your oral care, so it is better to avoid smoking, lifting heavy objects, touching surgical areas for a few days. You can maintain your regular cleaning and flossing after a few days to keep it germ-free.