by maria
|
Last Updated:
March 1, 2021
A missing or chipped tooth, especially when in front, is bound to affect your appearance and make you self-conscious. The dental system works perfectly when all teeth are intact, but if one or more teeth are missing it could impact your bite, speech, and trigger shifting to fill the gap. If left unattended for a long, missing tooth could affect facial muscle and jaw, causing mouth shift. Thanks to advancements made in dental care, now you have several remedies to fix your teeth and regain the confidence to smile freely. Your dentist will examine your dental system and recommend suitable treatment to restore the missing front tooth.
What to do in Dental Trauma?
If an accident or dental trauma is the reason behind a missing or chipped front tooth, you should be extra alert. Re-implantation of the permanent tooth could be done successfully within 30 minutes of the accident. Here are some of the things you should do post-accident to re-implant the knocked-out tooth.   
First of all, collect tooth or teeth fragments safely.

Keep the tooth safe to ensure re-implantation success.

Avoid touching the root of the tooth, touch only the crown.

To remove foreign particles you can rinse the knocked-out tooth in lukewarm water for not more than 10 seconds.

Just rinse, not scrub, scrape, or use any cleansing agent like alcohol.

Rinse your mouth with warm water and re-insert, if possible, the tooth in the right socket.

Bite on a gauze pad to hold the tooth in place.

Consult the dentist immediately to start the safe and secure re-implantation treatment.
Best Missing Front Tooth Replacement Options
The success rate of re-implantation is high, but it depends on several other factors. If re-implantation is not successful, or your tooth is partially chipped or cracked, your dentist will explore all possible tooth replacement options. Here are some of the most successful treatment options to replace a front missing tooth:
Dental Implant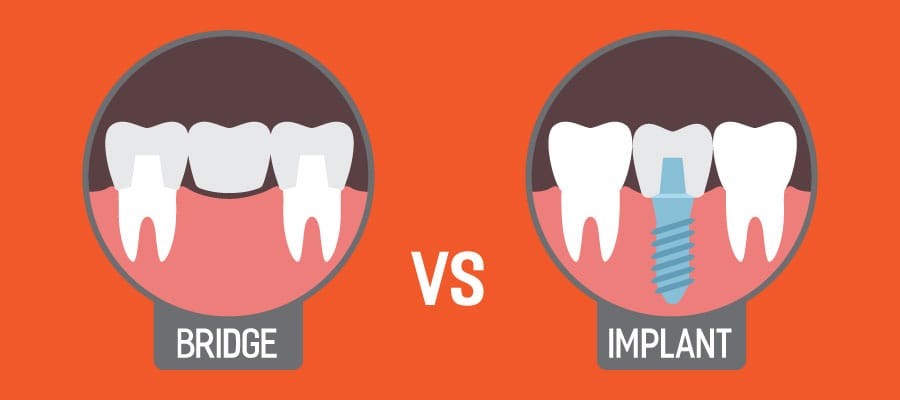 In modern dentistry dental implant is one of the most trusted treatments for replacing missing front teeth or rather any teeth. The procedure involved inserting the titanium-made implant into the jawbone to create a strong foundation for restorative or replacement crown, bridge, or denture. Once the implant fuses with the jawbone, which might take 3 to 6 months, your dentist will place an abutment, on which a crown is cemented. Strong foundation and precise design give you durable natural-looking teeth to eat and smile naturally. Although the treatment is invasive and relatively costly, you get permanent and durable teeth without affecting adjacent teeth.  
Removable Partial Denture
If you are looking for treatment options that offer you the flexibility of removing artificial teeth the removable partial denture could be one such option. You can wear a partial denture during the daytime and remove it while sleeping. If required, your dentist may use metal clasps to ensure better holding in the mouth. Besides possible visibility of the metal clasp when speaking and smiling, another disadvantage of partial denture is the mobility, which could create discomfort while eating and speaking. Since your natural teeth won't be scratched, it is relatively safe. It is the most economical treatment to replace a front missing tooth.  
Temporary Denture
Dental implant treatment is costly, so if you are planning to have a permanent and durable solution later on you can opt for temporary dentures, also called fillers. During the dental implant procedure, your gum and jawbone need time to heal, so dentists recommend temporary dentures to make the treatment journey enjoyable. It is like the partial denture, but less sturdy, less bulky, and less expensive. You will have a good looking natural front tooth to smile in public with confidence.
Bridge
If you are looking for a permanent solution for missing front teeth that is less expensive then a fixed or resin-bonded bridge is another good option. If you have strong teeth on either side of the missing teeth, then a fixed bridge can help you fill the gap. Alternatively, your dentist could fuse an implant in the jawbone to have a better foundation to hold the bridge. The procedure involves cutting down anchoring teeth to ensure better stability. You have the option of choosing the material of the artificial tooth, also called pontics, which can be made of porcelain, alloys, gold, or a combination of these materials.  
Bottom Line
Dental implants are best, but the procedure is highly complex, time taking, and of course expensive. No one feels good while smiling with a missing front tooth, so it is better to consult your dentist to explore the best possible treatment to replace missing front teeth that suits your need and budget. Doing nothing is definitely not the best option, so call your dentist to replace missing front teeth and smile freely.