by maria
|
Last Updated:
November 13, 2020
Want to improve your dental crown cosmetically to have the freedom to smile with confidence? Whether you have chipped, broken, discolored, or small teeth, dental veneers can help you achieve remarkable dental aesthetic results. Used mostly for the top front eight teeth, tooth-colored porcelain veneers are one of the most trusted and popular cosmetic dentistry procedures. Get in touch with your dentist to discuss dental veneers treatment and have an even and symmetrical smile.    
What Are Porcelain Veneers?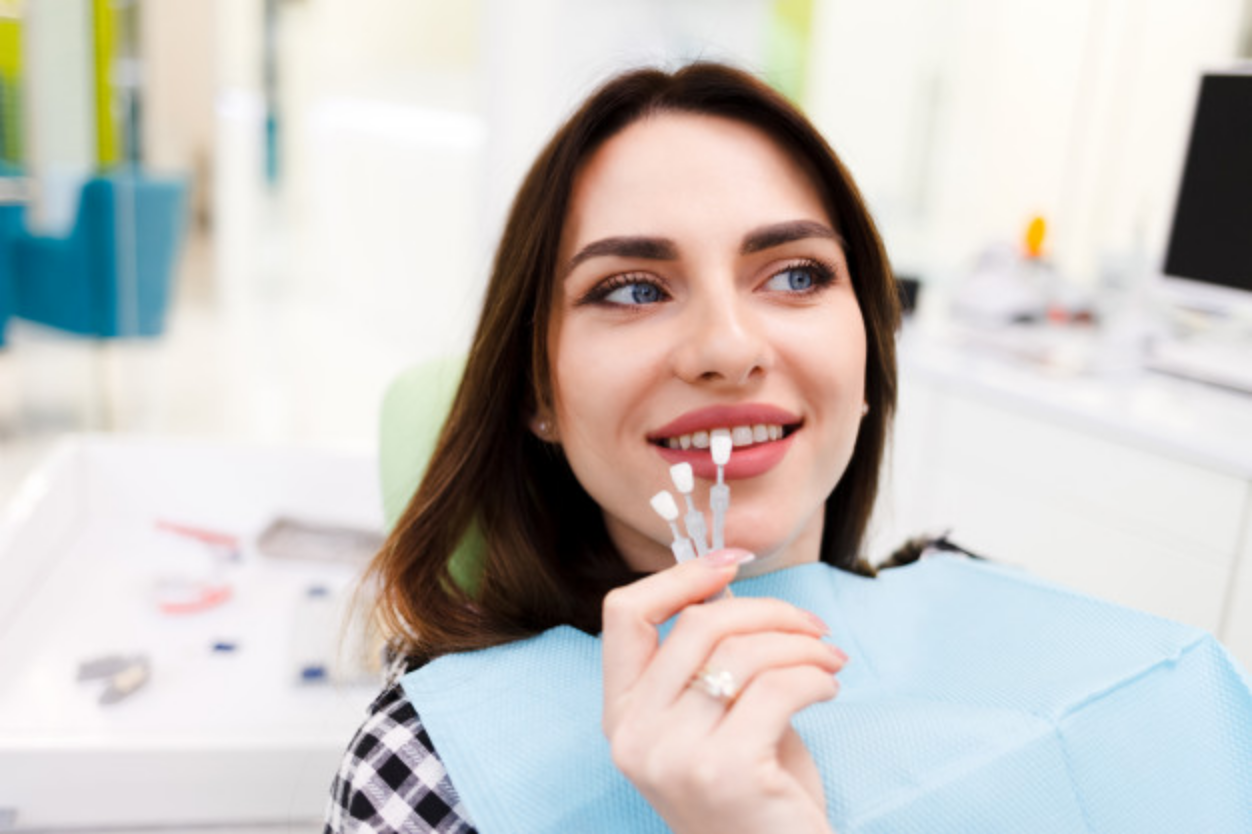 Dental veneers in general and porcelain veneers, in particular, are tooth-colored, thin shells that are bonded permanently to your teeth to enhance dental aesthetics. Depending on requirements, like a chipped or broken tooth, you might need just one veneer, or you might need 6 to 8 veneers to create a symmetrical smile.  
Porcelain veneers are one of the most natural and aesthetic restorations in cosmetic dentistry. The wafer-thin and natural coloration of porcelain veneers gives you a natural white crown look without causing discomfort. Unlike resin veneers, porcelain veneers are known for better stain resistance, light-reflecting properties, robustness, and durability. If fixed by an experienced dentist, you can expect it to last up to 15 years, so it is highly cost-effective in the long run.
Porcelain Veneers is For: 
In any cosmetic dental treatment, it is the suitability of treatments that matters most. Porcelain veneers can give remarkable aesthetic results, but you should know whether it is for you or not. It is for…
Porcelain Dental Veneers Procedure
It is the simplicity of treatment that makes dental veneers one of the most recommended cosmetic dentistry procedures among dentists across the globe. In just two appointments, post smile design stage, you can get a shining smile.
On the first visit, your dentist will prepare the teeth, which might involve the removal of enamel and grind down the tooth structure. If the removal procedure needs going past the enamel, you might need anesthesia for proper installation on porcelain veneers. Unlike crown and implants, which cover the whole tooth, porcelain veneers cover only the front of the teeth.
After preparation work, your dentist will take an impression and place mimicking provisional porcelain on teeth for 1-2 weeks for you to try. At the end of the trial period, the dentist will remove provisional and fix custom-made porcelain veneers keeping your smile, age, gender, and color in mind.
How Long Do Dental Veneers Last?
Nothing lasts forever, but porcelain veneers give you much-needed durability along with life-changing cosmetic improvement. The expected life span of dental veneer restoration is around 10-15 years. With quality oral care, you can extend the lifespan significantly. Unlike composite veneers, which usually lasts for 5-8 years, dental veneers are a better investment as it lasts longer and requires lesser attention and care.
How Much Do Dental Veneers London Cost?
The cost of dental veneer, whether resin or porcelain veneer, depends on factors like dentists, location, the skill of ceramist, and material quality. One of the most deciding factors is the "natural proximity" of porcelain veneers; the more natural it is, the costlier it would be. An experienced dentist will invest time and energy in subtle characterization and nuances to make it look real. In the U.K., the starting cost of dental veneer per tooth could be £450 and could go up to £1200-£1500 per tooth depending on the material used, dental complexity, and expectation.